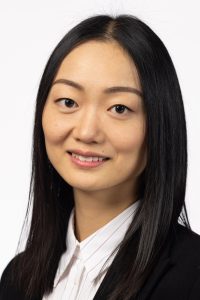 The Department of Construction Management is thrilled to welcome Lingzi Wu as she joins the department as part of the college's new faculty cohort. 
Tell us a little bit about your background and position.
Before coming to the University of Washington, I served as a postdoctoral fellow in the Department of Civil and Environmental Engineering at University of Alberta, where I received my MSc and PhD in Construction Engineering and Management in 2013 and 2020 respectively. During the period between my master's and PhD studies, I worked as a project coordinator for PCL Industrial Management on multiple oil sands projects located in Northern Alberta.
What led you to study construction management?
If I had to use one word to describe it, I would say fate.  There's a very small percentage of the population that just instinctively knows what they want to be. Unfortunately, I did not belong to that lucky group. In 2010, when I applied for graduate studies, I initially looked into structural engineering programs due to my background in civil engineering, except for the University of Alberta, where I applied for their MSc  in construction engineering and management. Looking back, I cannot precisely recall why I made that shift in focus. However, I vividly remember being drawn to the profile of a particular professor, Dr. Aminah Robinson Fayek, and feeling empowered by her accomplishments. When I reached out to her, she encouraged me to apply, which made me feel like it could be the right fit. I ended up loving construction management.
What initially attracted you to CBE specifically?
I can still remember this phrase from the job posting I read over a year ago: "CBE is about trying to create a more just and beautiful world," This deeply resonated with me. As an individual, I firmly believe that a better future, one that is more just and more beautiful, is possible. I also believe in the power of community collaboration and recognize the  impact each individual has in making that future a reality. This realization made me aware that I wanted to work alongside people who share this vision and are committed to making it a reality.
What is your research specialty and what makes it meaningful to you?
My research looks at has been and will continue to pushing for the digital transformation in the construction management industry; its more than just digitizing information (drones, drawings, reports, etc.) but more using these digitized documents to create a better decisions and therefore contributing to creating a better built environment. this more just, more beautiful world. The word "digital drawing" is very trendy right now, and usually we think of a digital replica of, for example, a portion of the built environment.
My research has been and will continue advancing the digital transformation of the construction industry in addressing the complex problems surrounding our cities and built environments. My long-term research vision is to fully digitize the construction industry by creating a mixed reality or construction digital twin. This digital twin will accurately reflect the current physical and functional properties of the dynamic construction ecosystem, providing timely and forward-looking decision support across all project stages. By integrating real-time data from different sources, such as empirical data, expert knowledge, and sensory information, this digital twin will create a virtual reality that mirrors the physical and functional aspects of the project. By utilizing data analytics, simulations, and other tools, we empower the construction digital twin with a certain level of intelligence that can assist us make more informed and equitable decisions for all project stakeholders, thus contributing to a more just and  beautiful world.
 With the assistance of data analytics, simulations, etc,  this digital twin will help us in making more timely and equitable decisions for all project stakeholders, thus contributing a more "beautiful world," and that is meaningful to me.
What is your vision for the impact you want to make through teaching and research?
My ultimate goal as a teacher is to create a positive, substantial, and sustained impact on how my students think, act, and feel. To me, it is more important to foster transferable skills that will benefit my students in multiple facets of their lives, rather than simply helping them understand a specific concept or software program. I strive to influence how they approach challenges, how they live their lives, and how they become responsible citizens.
In terms of research, my goal is to leverage my experience, effort, and expertise to help solve some of the complex problems we face in our society.
What's a course that you're especially excited to teach?
I'm constantly seeking ways to improve my courses, so the next one is always an exciting prospect for me. Given my background in data analytics and simulation, I have a particular interest in teaching courses on those topics.
If you could pass on any wisdom to your students what would you share?
If I could impart any wisdom to my students, it would be to prioritize self-awareness and self-acceptance. Each student is a unique individual with their own set of strengths and weaknesses. By understanding themselves better, they can learn to appreciate their uniqueness and find fulfillment in both their personal and professional lives. Embracing self-awareness and self-acceptance also paves the way for self-improvement, enabling students to reach their full potential.
What motivates/inspires you?
My students – each of them brings their unique attributes and values to this community. They continuously inspire me and motivate me to better myself both personally and professionally.
What is one thing/things you hope students in your class will come away with?
Live to learn and learn to live. 
Is there a book or piece of art, person, that has influenced your thinking and approach to life or work?
My approach to life and work is influenced by the people in my community, including my family, friends, students, and mentors. I believe that everyone has something valuable to offer and I learn from the interactions I have with them.
When you're not teaching, researching, or working, what do you get up to?
I'm up to a lot of things! At home, I enjoy baking and trying out new recipes. On my days off, I enjoy skiing in the winter and hiking in the summer.