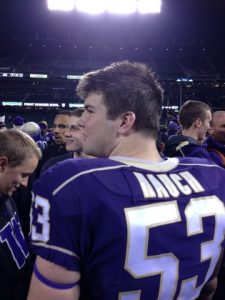 Eric Rauch grew up in Issaquah, Washington, a shining student and loving friend. Attending the University of Washington was always his dream.
Eric was a good-hearted soul, and though his life was tragically cut short in August 2022 due to a ranching accident in Colorado, he accomplished so much,
including achieving his dream of attending and playing football for the University of Washington.
Eric was a great athlete and teammate – motivated and humble. He had been a high school football standout who walked on at the University of Washington(UW). He not only made an impression on the field but off it as well. Eric was also a bright student who was on track to receive his degree in Construction Management.
He had always been a thinking guy, a mechanical guy, a Lego boy. I come from a family of builders. My father, grandfather, and great-grandfather were carpenters and builders. A couple of my sisters are also in the industry, so it was always part of Eric's life.
Todd Rauch, Eric's Dad
After studying at UW for several years, Eric applied to the Construction Management major – a competitive program with a cap on the number of available seats. Eric completed all of the program prerequisites. His coursework ranged from statistics to geology and calculus to accounting but also all the general education requirements required by the UW. Eric took classes in subjects ranging from Greek and Roman mythology to the planets and even earned a 4.0 in Dance 101.
Once Eric was accepted into the major, he took classes in materials science, structures, construction safety, and estimating. He explored specialties in mechanical and electrical contracting and earned Dean's List honors. It's not surprising that he excelled in coursework that focused on hands-on learning with lots of teamwork; those are the things that brought him here.
He left UW senior year after getting sick but was committed to getting his degree. While Eric was dealing with health issues and the resulting aftermath, his father Todd replied to an email his adviser had sent, once again emphasizing the family's commitment to supporting Eric's desire to complete his degree. Rachel, his adviser, was just as committed to getting him across that stage.
It takes a lot of grit and commitment to return to UW after an absence. Eric was so enthusiastic and focused on his goal of getting to graduation, which made him a fun student to work with. I kept telling him, 'Stick with it, we'll get you to graduation'. His work during his re-enrollment quarter actually brought him within the stringent requirements for his posthumous degree.
Rachel Faber Machacha, Undergraduate Academic Advisor
When Todd stepped in to help manage Eric's affairs, he expected there to be a lot of red tape. He was pleasantly surprised to find that wasn't the case at UW or the College of Built Environments.
Eric found light and energy from this college – the people, the instructors, and the Rachels of the world who never, ever let go. He was able to be successful and had a strong desire to be successful because of the connections he made with the people in the construction management department. Because of his community, Eric never gave up, even when he became ill, Eric earned his degree and the University is acknowledging that. His hard work and commitment paid off.
Ann and Todd Rauch, Eric's parents
We work very hard to recruit and attract the brightest students from the State of Washington, across the United States, and the world to attend the University. They are often their school's highest achievers and come here with hopes of everything running smoothly with no expectations for a break in their enrollment from their first quarter until their graduating last quarter. Eric was in that group and for many years he excelled and even made the Dean's List. But, as happens with so many of our students, life gets in the way and there become rough patches with grades earned that did not represent their normal academic success or hardships that require them to take a break from school. It's because of these students and students like Eric that a group of advisers, registrar office staff, and UW-IT worked to make changes to the re-enrollment process so that we can get students across the Husky Finish Line.
Helen B Garrett, University Registrar
I knew Eric as a fighter. I had met with him several times to rework his schedule so he could complete his studies. He was eager to learn and earn his degree in Construction Management from the University of Washington. I'm extremely honored to have met such a fine young man and proud to have him among the graduates of our program and the University of Washington.
Bill Bender, Professor and Former Chair of the Department of Construction Management
Eric worked hard for his 187 credits – never giving up. We are proud to honor his hard work and dedication and fulfill our promise to get him to graduation.
"Despite the obstacles he faced, Eric never lost sight of those goals nor the steps he needed to take to get to graduation. We all knew his goal was to come back to earn the degree. By earning this degree posthumously, we honor his relentless work." – Rachel Faber Machacha, Undergraduate Academic Advisor
Despite this tragedy, his strength and search for peace inspire not only his family but the university and CBE community as a whole. For the Rauch family, this occasion gives them a reason to celebrate Eric and his many achievements.