Department of Construction Management
Whether you are a graduate of Construction Management, a supporter of our program, or an industry partner, you are a part of a vast network of making a difference in business and communities around the world.  We encourage you to connect with fellow alumni, engage in lifelong learning, share a story of your success, or explore ways to give back!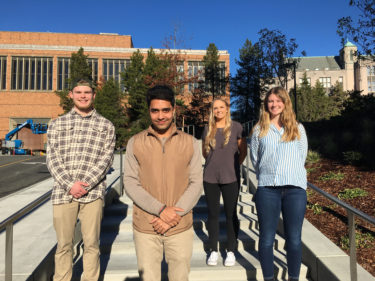 How can you stay connected?
Joining the "CM Alumni Group" on Facebook
Update your contact info and preferences
Attending our events such as the Construction Industry Hall of Fame Banquet
Fostering Tomorrow's Leaders
Tomorrow's challenges will be tackled by the students that we educate today. You can join us in investing in our students by supporting student scholarships. Scholarships make a significant difference in the lives of students, especially those who face increasing debt as tuition and housing expenses rise.
Our Fundraising Goals
$1.5 million | Undergraduate Student Support $500,000
Graduate & Ph.D. Student Support $250,000
Student Competition Funds
How to Make a Gift?
Online:
Fill out the online giving form here, search for "Friends of Construction Management".
Mail:
Write a personal check, make your check payable to the UW Foundation, indicate the fund you would like to support.
Mail your check to:
University of Washington Foundation
Box 359504
Seattle, WA 98195-9504
Tax Information
Your gift may qualify, in part, as a tax-deductible charitable contribution for federal tax purposes as allowed by IRS regulations.  The UW Foundation's Federal Tax ID is 94-3079432.
Contact Us
For more information, please contact our Advancement Office.