This Fall, construction management students, Jacob Best, Austin Chang, and Eddie Gammon were awarded support from the Andrew Eker Endowed Scholarship.
"Andrew and I are proud of our scholars and it is a highlight each year to meet the recipients," said Mary K. Hughes. "They so inspire us."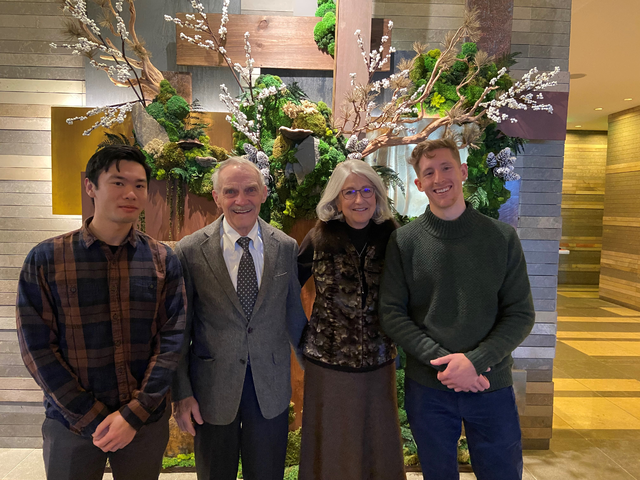 Austin is a transfer student from UW Bothell. "With the help of you and this scholarship, I am able to focus purely on my studies and work toward my degree in Construction Management," said Austin. He's looking forward to using his degree to enhance his work in real estate private equity and serve the community.
Jacob is a first-generation college student who has worked in the trades for over 10 years.  "Being awarded the Andrew Eker Endowed Scholarship will allow me to focus the majority of my time studying for my classes and appreciating the culture of UW, rather than on making ends meet," said Jacob. "Because of your generous assistance, I feel assured that working part-time will be enough for me to be fully present in my studies and with my cohort."
Eddie is a Navy Veteran who has 19 years of commercial construction experience as a journeyman carpenter. A career-ending injury in 2016 pushed Eddie to pursue a career in construction on the management side. "By awarding me the Andrew Eker Endowed Scholarship, you have lightened my financial burden of having to stress about bills, mortgage, and groceries," said Eddie. "The scholarship also allows me to focus more on the most important reason to attend college: learning. In addition, your philanthropy has inspired me to support others and give back to the community." He hopes to one day open his own construction firm and give back by supporting students in achieving their goals.
"The generosity of the Eker scholarship transforms the possibilities for our transfer students. By offering a need-based scholarship to incoming students, the department is able to attract and retain talented transfer students for whom the difference between community college and UW tuition would be a barrier to success. Transfer students bring rich experiences to the classroom and are an essential part of our cohorts", said Rachel Faber Machacha, construction management undergraduate adviser. "Non-traditional students, first-generation students, veterans, and students with experience in the skilled trades add to the diversity of our student body. They emerge as leaders inside the classroom and in student organizations and activities. We're grateful for the vision of Andrew Eker in creating more equitable access to the BS in Construction Management for the next generation of Huskies."
The Andrew Eker Endowed Scholarship was created by Andrew Eker and Mary K. Hughes in 2008. The scholarship supports undergraduate transfer students in the Department of Construction Management.
Andrew Eker graduated from the Construction Management program in 1963. He received his BA in Construction Management (before the program was renamed) at UW and pursued a very active 45-year career in real estate development, construction, and athletic club ownership in Alaska. He credits the education he received at UW for much of his success in business.
An alum of the University of Alaska, Mary K. has served on the University's Board of Regents since 2002. She is also a graduate of Willamette University College of Law. She has served on the Alaska community advisory board for Alaska Airlines for many years. Even though she is not an alum of UW, she is incredibly invested in the scholarship and enjoys learning from the students.
Andrew and Mary K. are very active in civic pursuits in Alaska. Their goal in establishing this scholarship was to support students with financial needs in their ability to pursue the education from which Andrew benefited.