The Department of Construction Management is proud to announce the award of Seattle Building Enclosure Council scholarships to CM graduate students Meghana Emani and Melissa Ordoñez! We are so excited to recognize the achievements of these students as SeaBEC members and part of the CM community and look forward to their achievements in the industry to come.
"Meghana and Melissa are deserving recipients of year's SeaBEC scholarship. Industry scholarships are vital in enabling CM students from all backgrounds to achieve their goals, both academic and professional. We're grateful to SeaBEC for their recognition of our graduate students over the years. -Andrew Bedell, Graduate Program Advisor
Spotlight on the Winners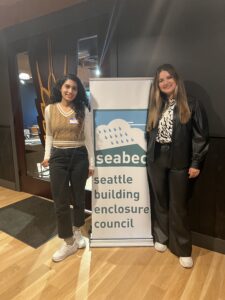 Meghana Emani's passion for architecture led her to earn a Bachelor's degree and work as a Junior Architect, where she gained experience in scheduling, designing, and coordinating with vendors and subcontractors. To her, this experience emphasized the importance of construction management, leading her to a CM graduate degree path. Now, as a graduate student at the University of Washington, she is focusing her thesis on the adoption of upcoming construction technologies, particularly change management practices for Digital Twin technology, under the guidance of Prof. Carrie Dossick.
"I applied for the 2023 SeaBEC scholarship to help alleviate some of the financial burden. I am grateful to the Seattle Building Enclosure Council for awarding me the scholarship, which will be used to pay for my summer tuition." – Meghana Emani
Looking to the future, Meghana is eager to apply her passion and expertise to make a positive impact in the field; she plans to graduate by the end of Summer 2023 and begin working as an Assistant Engineer at Turner Construction that September. Over the next few years, she hopes to move into VDC roles focused on developing technology strategies and program management.
Melissa Ordoñez is a civil engineer currently pursuing a Master of Science in Construction Management. Her thesis focuses on analyzing the standard specifications (SSs) of state departments of transportation (DOT) in the USA to examine and critically analyze the extension of time and suspension of work provisions in the 51 states and territories. The goal of this research is to improve the clarity of contract time clauses and reduce contractual issues and litigation related to contract time and extension of time for state DOTs.
"Being selected for this scholarship means so much more than just financial support. It's a recognition of the effort and potential that I have demonstrated, and I'm truly grateful for the opportunity. This scholarship will play a crucial role in my academic and professional journey, enabling me to complete my thesis during my final quarter. It's an honor to be chosen for this scholarship, and I'm excited about the doors it will open for me in the future." – Melissa Ordoñez
In the future, Ordoñez plans to complete her summer internship at Abbot Construction as a Project Engineer and graduate in December 2023. After graduation, she plans to become a project manager in the construction industry and to drive innovation in the sector, citing the project's alignment with her career aspirations as they will provide the opportunity to gain invaluable insights into the challenges and opportunities in an extension of contract time and suspension of work.
About SeaBEC
The Seattle Building Enclosure Council (SeaBEC) is a nonprofit organization whose purpose is to promote the pursuit of excellence in the design, construction, or other technical aspects of the building enclosure. SeaBEC began in January 2005 as a forum for discussion and knowledge-sharing of items relating to building enclosures. It promotes and encourages discussion, training, edification, technology transfer, and the exchange of information about local issues and cases, relevant weather conditions, and all matters concerning building enclosures.
It is our hope that by combining forces we can better understand why building enclosures fail and how to better construct and maintain buildings in the Pacific Northwest.