Charleston Burr was a transfer student in our Construction Management program and an Andrew Eker Scholarship Scholar. Originally from Kent, Washington, he transferred to UW in 2020, from Green River College in Auburn. Charleston graduated in 2021 and is now a Project Engineer at Hensel Phelps, where he is focusing on gaining experience and developing professionally while working on a diverse range of unique and challenging construction projects. This interview was conducted in 2021 while Charleston was attending UW.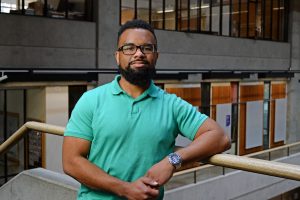 Degree program: Construction Management
Year: Senior
Hometown: Kent, Washington
Transferred from: Green River College
Tell me a little bit about yourself:
I was born in Renton, Washington, and have lived in the south Puget Sound region for my entire life. I started college pretty young but got bored and dropped out when I was 19 or 20 (I've never claimed to be the most intelligent person in the room.) Once I got established and came to my senses, I decided to go back to school. I think I made the right choice.
I did my prerequisites at Green River College in Auburn because it was close to home and an opportunity to save some money during my first two years of college. I had the chance to enroll at UW a year earlier than planned if I had taken 25 credits over a summer, but I decided against that. During my year off, I took up a second job at Green River as a tutor for six courses.
What made you choose the Construction Management major?
There's a strong argument that fate played a role in my decision; my dad has been in the industry for 40+ years, and I have two siblings who work in the industry as members of the UA Local 32 union. A better argument is that I was working in the industry when I decided to go back to school and didn't want to throw away the little career capital that I had earned. But really, it is that I like to build things, and I enjoy working alongside the people that find their way into this industry.
What has been your favorite part of the department so far?
My favorite thing about the department is the close ties with the local construction industry. The department does an excellent job involving affiliate instructors active in the industry, each offering a unique perspective based on their experience. There are also many learning opportunities out of the classroom, and industry professionals are always willing to help so long as we put ourselves out there.
What's been the hardest part about transferring or the hardest part of this program?
In my experience, UW does an excellent job getting transfer students on our feet. The hardest part about the department was adjusting to the course load. I grew accustomed to taking no more than three classes at a time, so six courses in addition to work during my first quarter felt like overkill. It can be overwhelming at first, but it's not so bad once you get used to it.
What experiences have been the most impactful for you outside of the classroom?
My favorite part by far has been the ASC Student Competitions. These competitions are held annually in Reno, Nevada, and allow schools from all over the country to compete in a wide range of categories (commercial, design-build, heavy civil, etc.) Teams are typically limited to six members, and most competitions require that a team spend 16 consecutive hours developing a proposal on a project recently completed by the problem sponsor. As a senior, my team submitted a proposal to Hensel Phelps on a $220M Operations and Maintenance Facility in Bellevue, WA for Sound Transit. I nearly dropped out of the team during my junior year, and I'm thankful for those who convinced me to stay on board. I like the team aspect, and I see these competitions as a low-risk opportunity to demonstrate your knowledge to industry professionals.
What would you say your dream job is?
I actually don't spend a ton of time thinking about this. I try to focus on doing the best I can do today, and I think that most of the career opportunities available to me can be a "dream job" if I approach them with the right mindset. That said, I like variety, leading teams, and a good challenge. Something that features these attributes would probably be ideal.
Do you have any advice for transfer students?
Start early by working hard at school before you transfer into UW; the adjustment period will be much easier if you bring a good set of habits with you. Once you're in, get plugged in early. Your peers already know how to navigate the college, and they'll give you the resources you need to succeed. Get to know your faculty and work hard so that they get to know you. The college is big and has many resources; make sure you know which ones you need to get through your time here.
Do you have any words of advice for Construction Management students?
Ask questions, and when you run out of questions, find new ones. Seek to understand. Take advantage of the opportunities while you can. Treat every encounter like an opportunity to learn something new. Shoot high, and don't be afraid of falling short. Accept that you'll always encounter failure on the road to success. And finally, try to have fun.